"Stop Line 3!" echoed down Church Street in Burlington yesterday as more than a hundred people marched through town. Sponsored by a large coalition of groups including 350 Vermont, Upper Valley Affinity Group, and The People's Kitchen, the march and rally was held in opposition to the new Line 3 oil pipeline in Minnesota. Line 3, built and owned by the Canadian pipeline company Enbridge, is slated to be North America's largest pipeline, pumping tar sands oil from Alberta.
Burlington is roughly a thousand miles away from Minnesota, but the stopping points for Friday's march make the connection clear. Two banks with local branches, TD Bank and Chase Bank, have invested billions of dollars into Line 3 construction. As the march stopped at each, participants from the crowd walked into the bank lobbies to deliver messages to bank management. Similar actions have been held against TD and Chase across the country.
The route Line 3 takes is a meandering one, cutting through the ancestral lands of the Anishinaabe, Arapaho, Cheyenne, Dakota, Fox, Ho Chunk, Iowa, Odawa, Ojibwe, Omaha, Ponca, and Sauk peoples in what many consider a violation of treaty rights. It also crosses more than 200 bodies of water and wetlands, including the headwaters of the Mississippi River.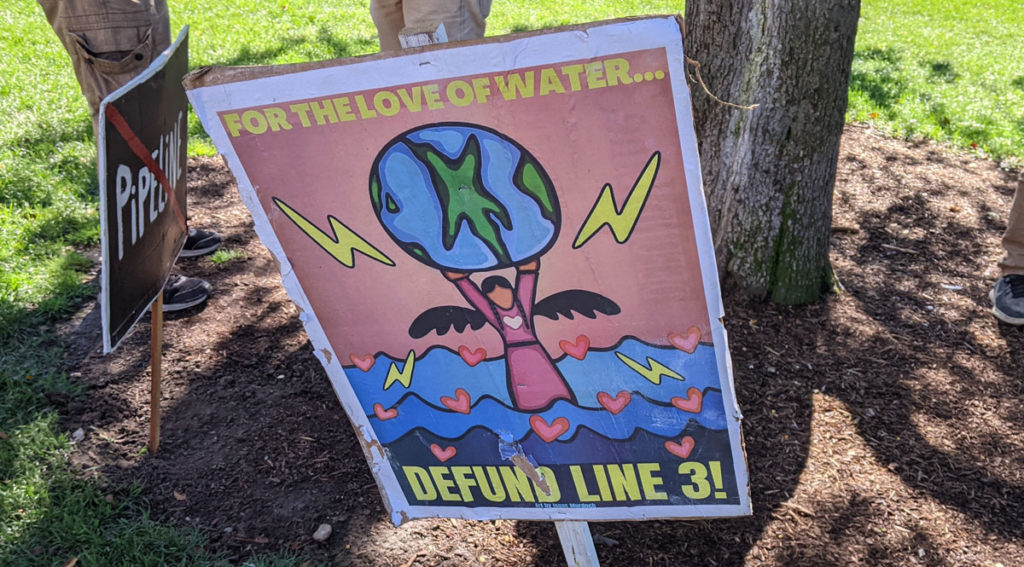 One Vermont resident who spoke at the rally has a particularly close connection to the struggle for climate justice in the Midwest. Beverly Little Thunder is a member of the Standing Rock Lakota Band, born and raised on their reservation in North Dakota. While she has lived in Vermont for the past sixteen years, she spent several weeks at Standing Rock in 2016 to fight the Dakota Access Pipeline. Upon her return, she helped mobilize Vermonters to support the struggle through donations of funds and goods. "It was only because of support from people like Vermonters that [the protest camp] was able to function as well as it did," she said.
Climate activists have long been frustrated that Line 3 has gotten less political and media attention than the Keystone XL pipeline, despite the fact that Line 3 is projected to pump roughly the same amount of tar sands oil: almost 800,000 barrels per day. 
President Biden revoked Keystone XL's cross-border permit upon entering office in January, a resumption of President Obama's actions against the pipeline and a recognition that opposition to it had captured the public imagination. The Biden White House has shown no such hostility to Line 3. In a June court briefing, the administration defended the pipeline from a legal challenge mounted by environmental and Indigenous groups.
At the state level in Minnesota, the Democratic-Farmer-Labor Party holds the state House of Representatives and the Governor's mansion but has not taken action against the pipeline. From 2017 through 2019, Enbridge was the biggest lobbyist in the state, spending almost $20 million according to The Daily Poster. Governor Tim Walz, in an interview with the Duluth News Tribune, defended Line 3 construction: "I think I have a very progressive environmental record, but I'm also a realist, and we need to move oil, and we need to move it safely." A 2020 Oil Change International report found that the increased carbon emissions resulting from Line 3's operation would far outstrip Minnesota's 2050 climate goals, concluding that the pipeline's impact would be the equivalent of bringing fifty new coal power plants online.
During the march's concluding rally at Battery Park, speakers reminded attendees that all pipelines leak. Indeed, Enbridge has an extensive history of leaky pipelines. The largest inland oil spill in United States history — 1.7 million gallons — took place in Minnesota in 1991. The spill was caused by a leak in the original Line 3 pipeline owned by Enbridge, then known as the Lakehead Pipeline Company. Despite the fact that the new Line 3 is not yet operational, Enbridge has already reported an estimated 10,000 gallons of spilled drilling fluids during construction.
There is an even more profound link between Vermonters and Line 3: their utility bills. Enbridge owns a 39% share of the companies that own Green Mountain Power (GMP) and Vermont Gas Systems. GMP provides electricity to more than 70% of Vermont, and Vermont Gas is the state's sole natural gas utility. GMP in particular bills itself as a socially and environmentally conscious business. Its website claims it provides "100% carbon free and more than 68% renewable" power, but its revenues help balance Enbridge's books.
All evidence suggests that Line 3 is truly a high-stakes venture for Enbridge, the fossil fuel sector, and the banks supporting them. According to a Rainforest Action Network report, the company has taken out loans with dozens of large banks, including TD and Chase, and has ongoing lines of credit totaling $12.87 billion. In an interview, climate organizer Emma Shoenberg said, "[Investors have] sunk so much money into Line 3, and they have to make it back. What if they didn't? What would happen to the stock market and global economy?" Schoenberg, a Vermonter who has been supporting pipeline resisters facing legal charges in Minnesota, believes Line 3 to be one of the last large pipeline projects in the country with the potential to turn a significant profit. Enbridge itself has claimed the U.S. portion of Line 3 alone will cost $4 billion, the largest project in the company's history. "Stopping Line 3 would be a critical blow to Enbridge," Schoenberg said, "which would be a critical blow to the fossil fuel industry."
While Beverly Little Thunder sees momentum growing over the past few months, there is still much to do, and the hour is late. Assuming there are no further delays, Enbridge predicts oil will start flowing before the end of the year. "There are people who don't realize that this is just as serious as Standing Rock was," she said. "It's gonna take a whole state standing up and saying, 'This is wrong, no, you have to stop this.'"
Those interested in learning more about opposition to Line 3 can visit stopline3.org.
Patrick is a writer and organizer based in northern Vermont. He is on the editorial collective for The Rake Vermont.