For over two years, Hannaford CEO Mike Vail has neglected calls for his company to join Migrant Justice's Milk with Dignity program, a worker-driven social responsibility program that aims to secure economic justice and human rights for dairy workers across Vermont. October 3 marks two years since the first public calls for Hannaford to join Milk with Dignity and the fourth anniversary of Ben & Jerry's entrance to the program.
On Saturday at Leddy Beach in Burlington, Migrant Justice kicked off a speaking tour that will hold events throughout New England, giving updates on Milk with Dignity's accomplishments and urging Hannaford to add its more than 180 supermarkets to the program. After comments from organizers and participants in the program, over a dozen cars formed a caravan to deliver a statement to the Hannaford on North Ave.
Worker-Driven Accountability
The Milk with Dignity program aims to hold accountable those most profiting from dairy—large corporations like Hannaford and Ben & Jerry's—for the wellbeing of the workers in their supply chain. Participating companies pay premiums to farms in their supply chain in return for the farms' compliance with the Milk with Dignity Code of Conduct, which lays out requirements for farmworker wages, health and safety, schedules, housing, and other work conditions. Other important components include Migrant Justice's education of workers on their rights in the program and the Milk with Dignity Standards Council, an independent nonprofit that implements, monitors, and enforces compliance with the Code.
The Code, says Jose Luis Cordova, a worker covered by the program and who made news several years ago after public outcry over his detention by Border Patrol, is what sets Milk with Dignity apart from other social responsibility programs. "We've developed [the Code] according to workers' rights, so we have protections, we're given training."
Marita Canedo, the Program Coordinator for Milk with Dignity, explained that when Cordova says we've developed, "it's because the very same workers have created the standards." This important detail is what makes Milk with Dignity a worker-driven social responsibility program, which, according to a ten-year longitudinal study, may be the most effective framework for worker protections, surpassing fair trade or other multi-stakeholder initiatives that "are tools for corporate-engagement rather than instruments of human rights protection."
Canedo also pointed to the Milk with Dignity Standards Council, emphasizing that it is an independent and bilingual oversight organization that ensures the premiums paid serve the needs of workers in the forms of better wages, paid time off, bonuses, and allowing farmers to provide better housing and working conditions. What separates it from toothless corporate social responsibility initiatives, she said, is that "it has an enforcement mechanism…there isn't another program that has enforceable standards."
Finally, worker empowerment and worker-to-worker education are integral to the program's success. "The education that everyone receives, everyone on the farm—managers, owners, workers all know how the program is going to work," Canedo explained.
Milk Without Dignity

Migrant Justice has long been shining a light on the precarious working and living conditions of farmworkers in Vermont. In 2018-2019, a survey designed and carried out by Migrant Justice farmworker leaders revealed that dairy workers outside of the Milk with Dignity program experienced high rates of harm from chemical or biological hazards (83%), risks with animals (78%), and environmental or workplace safety issues (85%), and that the majority of workers never received training on these risks. Moreover, only 16% of these workers have medical insurance coverage. Because of the isolation of Vermont farms and lack of access to housing options, many live in employer-provided housing that often is crowded, run down, and for almost 1 out of every 14 farmworkers, lacks adequate heat. The list goes on: almost a quarter of farmworkers reported running out of food at some point, a reflection of the economic injustices suffered. Another Migrant Justice survey from 2014 found that 40% of farmworkers were being paid below Vermont's minimum wage and that 20% had experienced wage theft.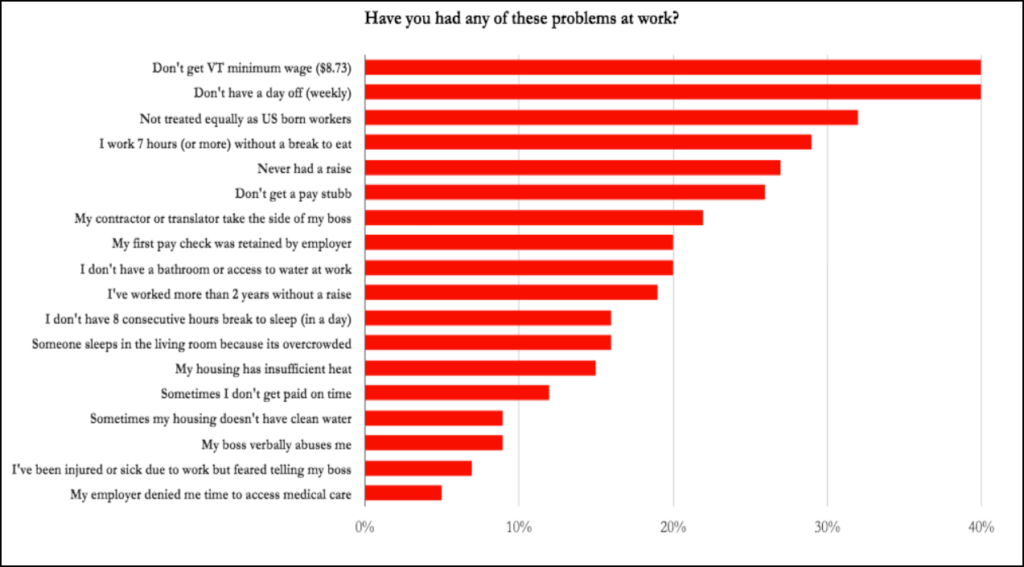 These numbers are from before the pandemic, which has only exacerbated the risks and challenges faced by farmworkers, who often reported having no breaks, no days off, and almost all of those surveyed reported working over 8-hour shifts.
The news has reminded us lately that Vermont farmers are facing immense pressures, as well: recently Horizons Organics is terminating contracts with nearly 90 farmers, farms were forced to dump milk during the pandemic as schools closed and demand plummeted, and at the broader level, consolidation and globalization in the food industry continue to drive down prices, depress farmers' incomes, and maintain poor conditions for farmworkers.
Dear Hannaford: Sí Se Puede
At Saturday's event, Rosie, a farmworker already covered by the Milk with Dignity program, pointed out that "there are farms that even though the owner wants to give [workers] benefits," the money and resources aren't there. "They can't afford those changes." Milk with Dignity provides a way to bridge that gap in resources, as Hannaford would pay premiums to fund benefits and protections for workers in its supply chain.
Still, Cordova told The Rake Vermont: "We have sent them emails, we've sent them letters, we've held protests and caravans, we've given them reports, and at this point we have not received a concrete answer that yes, they want to join the program." He told us that Hannaford has highlighted their donations to organizations or even farms as a way to assert that they "don't need this program… and so they in one way or another are wanting to help in order to evade the topic."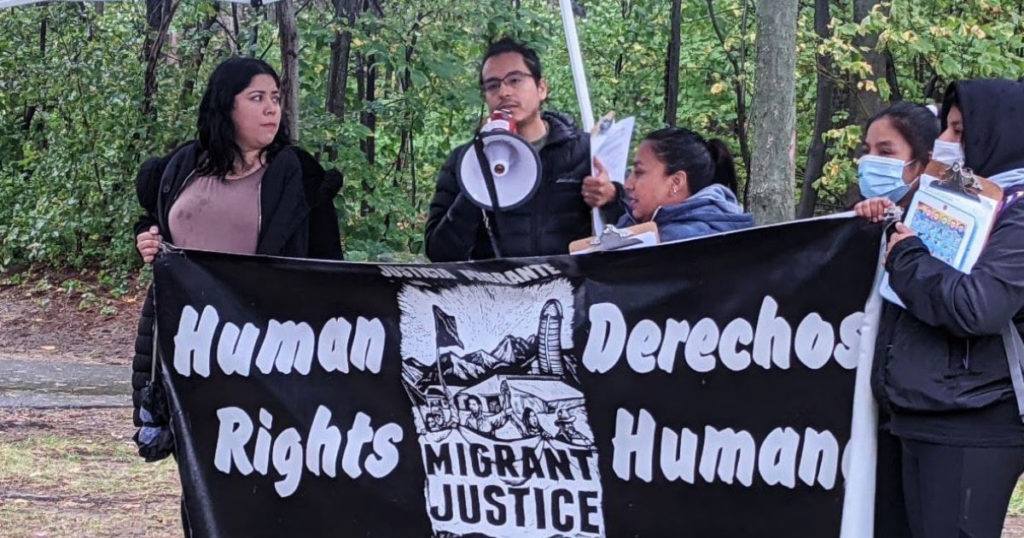 According to Canedo, Migrant Justice has secured support not only from workers and consumers, but "also through the shareholders of Ahold [Delhaize], which is the parent company of Hannaford." In April and June of 2021, Hannaford investors representing $121 billion in assets under management sent a letter to CEO Mike Vail in support of the Milk with Dignity's program, citing concerns about the long-term performance of the company and the sustainability of food systems and the agricultural industry.
Hannaford spokesperson Ericka Dodge has stated that Hannaford trusts their supply chain to provide workers with fair treatment in terms of compensation, safety, health, and hours. Migrant Justice's surveys of farmworkers show otherwise, and Canedo stressed that the current system lacks any "enforceable standards."
Even so, Canedo said, "we know that the pressure that we're putting in the campaign is bringing results because every time we have an action like today or in a statement, they come up with some big charity donation" or reiterate their dedication to workers' rights. "But," Canedo continued, "it's the basic corporation mentality; they want to control everything and they want workers to leave."
Progress in a Pandemic
The pandemic has thrown a wrench in some of Milk with Dignity's organizing efforts, says Manuel Morales, a dairy worker on a Franklin county farm, noting that this tour was delayed a year because of COVID-19 and that "you don't see the impact of like, where the workers are, who they are." He explained that they were able to continue to connect via webinars and other remote communications.
Nevertheless, the program's progress continues to have a tangible impact on workers' everyday lives and has proved invaluable amid the pandemic, when worker protections, additional resources, and the quick distribution of information has been vital to farmworkers as their wellbeing is even more precarious.
Earlier this year, Milk with Dignity published its Year 3 Report Update, Through their partnership with Ben & Jerry's, around 20% of dairy farmworkers in Vermont are covered under the Milk with Dignity program. Over $1.8 million were paid in premiums in the first three years of the program, which included $900,000 for raises to meet the state minimum wage, over half a million dollars toward housing and safety improvements, and a quarter of a million dollars that passed directly to workers as bonus payments.
For workers in the program, access to paid sick leave has nearly doubled, and compliance with the state minimum wage has increased by over 20%, from 68% in 2018 to 89% in 2020.
These protections and benefits for dairy farmworkers in the program currently include farms in Vermont and New York, but if Hannaford joins the program it would be able to improve conditions for workers throughout the Northeast.
Migrant Justice says the time for Hannaford to join the program is now. Like many grocery stores during the pandemic, Hannaford has experienced remarkable sales growth, and they could be investing those increases in the workers who made it possible. "Taking into account that the workers continued to work regardless," said Canedo, "taking into account that the pandemic has made Hannaford richer because its profits have increased a ton… we're excited about the tour that's ahead of us."
Some of the interviews in this article were originally conducted in Spanish, translated by the writer.