On January 4, 2020, in an email exchange about city business with Church Street Marketplace Commission Chair Jeff Nick and Burlington City Councilor Joan Shannon, Interim Burlington Police Chief Jon Murad let Shannon and Nick know that his delay in responsiveness was due in part to the police chief's executive assistant quitting.
Later that evening, according to records obtained by The Rake Vermont, Shannon took that comment as an opportunity to solicit Murad for that same job on behalf of her college-bound daughter. While Shannon wrote, "I offer this only to be helpful, so please don't feel like I'm advocating for it," she then outlined all of her daughter's qualifications, following up in a separate email with, "if you want someone quick, she could be an excellent option." Four days later, she wrote to Murad explaining that another deputy chief had told her daughter to go through the same process as everyone else and contact HR.
The City of Burlington's charter states that "No City officer shall participate in any fashion or cast a vote on any matter in which either a direct or indirect conflict of interest is present." As stated by the Vermont League of Cities and Towns, "in general terms, a conflict of interest is an incompatibility between the private and public interests of a public official."
We asked several Burlington police commissioners if they would care to comment on the emails below. The only commissioner to respond was Stephanie Seguino, who told us, "This type of matter is not in the purview of the commission, so I can't comment. We have forwarded the email on to the Commission's lawyer, however." When asked if, in general, an interim chief entertaining employment solicitation from a sitting city councilor would count as being under the commission's purview, we received no response from Seguino.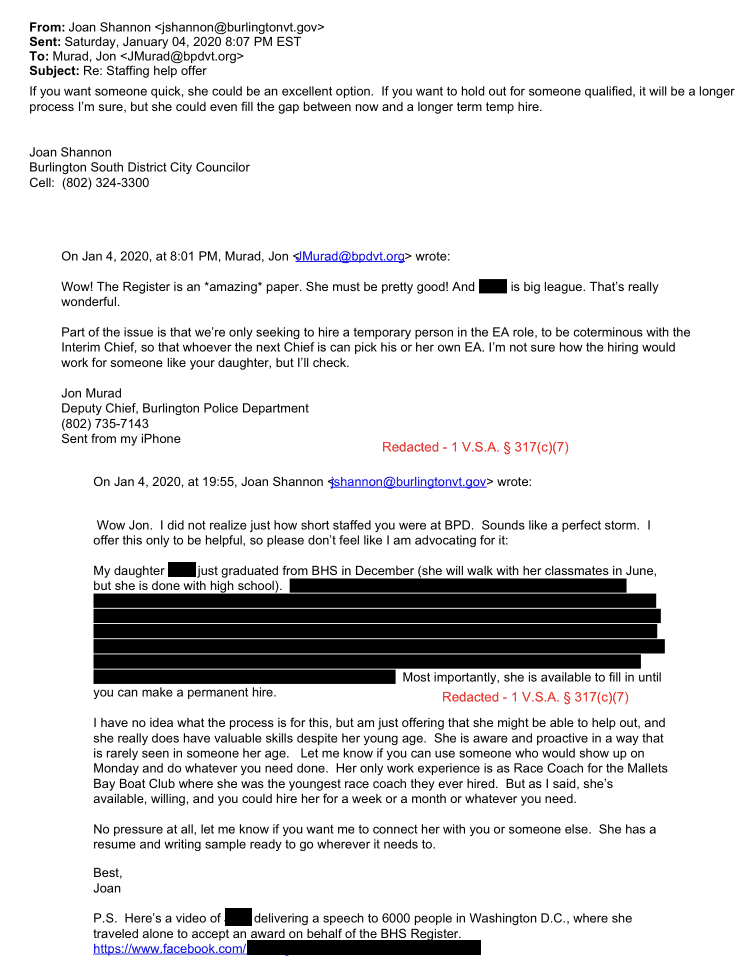 The exchange itself illuminates one of the ways city councilors can potentially personally benefit from their elected position: quick and easy access to department heads responsible for the bulk of hiring city-funded jobs. Shannon's daughter would have been working directly under Murad as his executive assistant making $22-$25 an hour. Qualifications for the job include a high school diploma and five years experience, or a bachelor's degree and two years experience. Shannon's daughter, a recent Burlington High School graduate, would not have met the minimum qualifications for the position, particularly if she had been subject to typical hiring procedures.
As questions rage throughout the city about police oversight and funding, along with the process of hiring a permanent chief, residents may wonder how Shannon's conflict of interest will affect her upcoming votes. Murad made it clear in June that he plans on applying for the permanent Police Chief position. As city councilor, Shannon will be expected to vote on mayoral appointments, and if Murad is the next Burlington Chief of Police, he will make between $120,000 – $130,000 a year.
While Shannon responded to an initial email asking for an interview, she did not respond to follow up emails with questions about this exchange. Adam Roof, chair of the Burlington Democrats, Interim Chief Jon Murad, and Mayor Miro Weinberger did not respond to questions surrounding this potential conflict of interest.
Charity Lenfest, a 20-year Burlington resident and parent in the South End was not surprised but was disappointed upon learning about Shannon's solicitation. Lenfest said that she has "absolutely no faith" that Shannon would support her if she had a negative interaction with the Burlington Police Department, and that this "reinforces what her actions as a city councilor for many years have already shown; that she is very cozy with the police." Charity ran against Joan Shannon for City Council twice in the early 2000s as a Republican but has since disaffiliated.
In an editorial in the North Ave News published early this month, Councilor Shannon asked readers several misleading questions. "Are we better off now that we have defunded the police? Have BIPOC community members benefitted from defunding the police? Have criminals benefitted from defunding the police?" (Burlington has never defunded the police, and recently — unanimously — approved hundreds of thousands of dollars in bonuses and increased staffing limits.) While it's clear that the Burlington Police Department benefits from Shannon's actions, the more pressing question for Burlington residents is how much Shannon benefits from her relationship with the Burlington Police Department and interim Chief Murad.
Photos in top graphic: CCTV Center for Media & Democracy Programming, Creative Commons BY-NC-SA.
Emily is a writer and organizer on the editorial collective of The Rake Vermont.