Last Thursday, in the halls of the Waterman Building on the campus of the University of Vermont, dozens of staffers across various departments — from biology to residential life — lined the hallways outside the executive offices of the school, laptops open, diligently at work. This "work-in" was held to object to UVM's proposed implementation of new time tracking software for roughly 700 staff.
"It's a timeclock system which this group of workers has never been subjected to," said Ellen Kaye, co-president of UVM Staff United and a cataloger at Howe Library. "Their jobs don't conform to standardized schedules, punching in and out…a lot of our work varies, it's very non-standard, so they're trying to put everyone in the same box here."
In January, UVM announced its implementation plan to switch to Kronos for all non-exempt staff on campus, which includes roughly half of the members of UVM Staff United, for a slated March rollout. Neither workers nor union representatives were consulted prior to the announcement, and the university had already bought licenses for the product, totaling $371,000, last August, according to Kaye.
UVM claims that the move to Kronos is about compliance and paying employees accurately, citing difficulties in the current PeopleSoft system with overtime, on-call, and shift differential pay. Kaye agrees that the current PeopleSoft implementation has problems, but she had expected that UVM would collaborate with the union on a workable solution instead of imposing one. Kaye says that UVM Staff United casts no aspersions on those who punch clocks at UVM, but that it is not in compliance with the contract the university signed with the union.
The switch has been delayed as the union has been bargaining with the administration since April, arguing Kronos would be an obstacle to job effectiveness and would further reduce employee morale, recruitment and retention. The new system would set for time to be tracked by supervisors and management to the second, via an online punch clock in which all timesheets must be approved manually by management before the system will release paychecks. It also would create situations that one employee described as "if we're clocked out, we cannot put out a fire should a fire occur," stating that the system would require supervisory approval to clock in at non-standard work hours to address pressing job-related issues.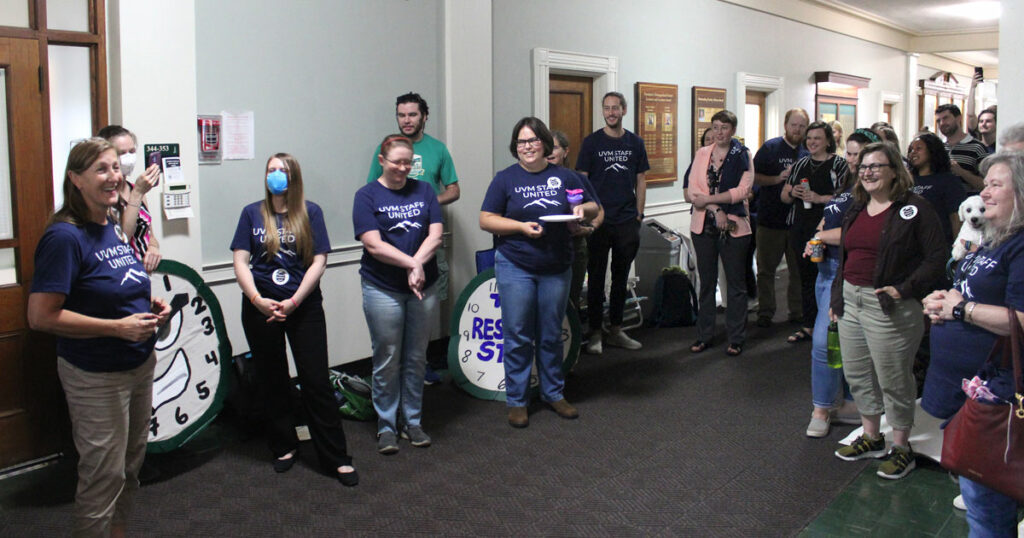 The rigidity of the proposed Kronos implementation, which requires managerial approval for every single punch of the clock, in and out, also opens the door to disciplinary action for things like lateness, despite the fact that staff currently have the ability to use flexible hours guaranteed in its contract.
The union also notes that the system will place a significant burden on supervisors throughout the hierarchy of the university, especially for times when immediate supervisors are out of the office. Cameron Ishee, who works at the Larner College of Medicine and is communications lead for UVM Staff United, described the scenario she would face if Kronos was implemented the way management wants it:
"My immediate supervisor is going to be out on maternity leave for months. The person after that is the chair of my department and she frequently is traveling internationally, so she's not available. The person after that is the Dean of the College of Medicine, who would have to manually approve every one of my punches, and if that doesn't go through, I don't get paid."
UVM Staff United made 15 proposals in their April negotiation with management, including that all employees should have the option to enter their time manually rather than using the clock-in and clock-out function (an option available in Kronos), no penalties for lateness if their positions are not time-critical and the employee makes up their time, and a "rounding window" to the nearest 15 minutes on the clock for time logged.
The university rejected many of these in May. Counter proposals have also been rejected by UVM, leaving bargaining with a long way to go before reaching agreement. Still, the delayed implementation of Kronos, which has been pushed back twice because of bargaining sessions, is itself a small victory for staff.
Workers spent the day in the Waterman hallways without the convenience of their desk or dual monitor setups, showing they can accomplish their work without micromanagement, as they have for years.
"We're here to demonstrate what non-standard work looks like," Ishee said. "We've all communicated with our respective supervisors that we're going to be doing this and this is what it looks like… It doesn't have to be such a concern."
With no end in sight for the bargaining fight, the work-in still took an upbeat tone. During their lunch break, those assembled took turns explaining the work they had been doing, and would keep doing into the afternoon, showcasing a diverse grouping of people who serve the university's needs on a daily basis.
"I witnessed that [work] this morning," Kaye said to the crowd gathered for its noon rally in front of the executive office doors. "When I looked up from my cataloging every once and a while I was almost moved to tears, to see all you sitting here diligently doing your work for this university that needs to respect us more for that work."
The University of Vermont did not respond to request for comment.
Matt Moore is a writer from Vermont. He is on the editorial collective of The Rake Vermont.