This summer saw major strikes called by writers and performers alike: first the Writers' Guild of America (WGA), then the Screen Actors' Guild and the American Federation of Television and Radio Artists (SAG-AFTRA). While their professions are unique, striking workers in both unions have shared interests and concerns: battling increased precarity, the whittling away of workplace standards and pay, the dominance of the streaming model for revenue, and the threat of AI.
They also have a shared opponent: their bosses, the Alliance of Motion Picture and Television Producers (AMPTP). Though the AMPTP came to a tentative agreement with the WGA earlier this week, the workers of SAG-AFTRA remain on strike. The union and studio executives plan to meet for their next bargaining session this Monday, October 2.
It's common to think of these professions as solely within major media markets and hubs like Los Angeles and New York, but SAG-AFTRA members can also be found across New England. We spoke via email with two Vermont-based members, Marci Diamond and J.T. Turner, about their work, the strike, and how Vermonters can get involved.
The interview has been lightly edited.
Who are among SAG-AFTRA New England's workers within their ranks, and what types of projects are typical for a member?
Marci Diamond: SAG-AFTRA is a national union with around 160,000 members. Our New England local represents a diverse membership based in Maine, Massachusetts, New Hampshire, Rhode Island, eastern Connecticut, and Vermont. We are actors, announcers, broadcast journalists, dancers, DJs, news writers, news directors, program hosts, puppeteers, recording artists, singers, stunt performers, voiceover artists and other media professionals. Our work is seen and heard in movie theaters, on television and radio, sound recordings, the internet, streaming services, video games, mobile devices, home video, in commercials, corporate/educational projects and even student films.
Over 80 percent of our membership earns less than $26,000 per year under these contracts, which is the threshold for industry health insurance eligibility. So the vast majority of our membership are working class creatives, not the "rich and famous."
Personally, I have been covered by a range of SAG-AFTRA union contracts, from working as a principal actor in several national commercials filmed in Massachusetts and a regional commercial filmed in Rhode Island; as lead in an independent virtual reality film shot in New Hampshire and Maine; and as background actor, photo double and stand-in in dozens of major feature films, TV shows, and streaming programs throughout the region, among other projects.
J.T. Turner: Marci and I, and our dog Ghost, were actually cast together as principals on a regional commercial this year. My SAG-AFTRA work has also included principal work on a major streaming service feature film, voice-over and descriptive narration, and background on dozens of films. Our kids have also worked on a number of feature films and TV shows as SAG-AFTRA members.
Diamond: There has been a lot more union work coming into states with a tax incentive for filmmaking, like Massachusetts and Rhode Island. We don't have a film tax incentive here in Vermont yet, so the only on-camera work I've done here so far was a SAG microbudget agreement for a livestream of a script reading. I'd love to see more work for us working-class Vermont union members coming to the state, and more producers in Vermont doing union productions. Doing a union contract with our New England local is a simple, quick and affordable process, especially with the SAG-AFTRA regional commercial, microbudget, corporate-educational and student film agreements. Since our current strike is only against the AMPTP, meaning the major Hollywood producers, we can totally work with independent producers creating content under one of the non-struck contracts or who get a SAG interim agreement; we've seen these be approved right away. There really is no excuse for folks who say they support social justice to not do union contracts for their productions — always, but especially during our strike. It feels like union-busting every time we see a non-union casting call.
Turner: I actually worked as a principal on an independent microbudget union film in Massachusetts last month. Not sure why more Vermont producers aren't using these contracts to enable union artists to be considered.
What actions have SAG-AFTRA taken locally? Are there planned actions in Vermont or more across the region?
Diamond: The New England local has organized well-attended rallies in Boston, Salem, Northampton, Rhode Island, and Connecticut, with support from sibling unions, as well as folks like Massachusetts Senator Elizabeth Warren and Rep. Ayanna Pressley, mayors, and many other supporters. Here in Vermont, in the aftermath of this summer's floods, we worked with the NE Local staff to organize a donation drive for the Vermont Food Bank. On the AFL-CIO national day of solidarity, August 22, staff drove up from Massachusetts with a truck loaded with hundreds of pounds of food and hygiene products donated by our members, and delivered this in solidarity to the Vermont Food Bank in Barre.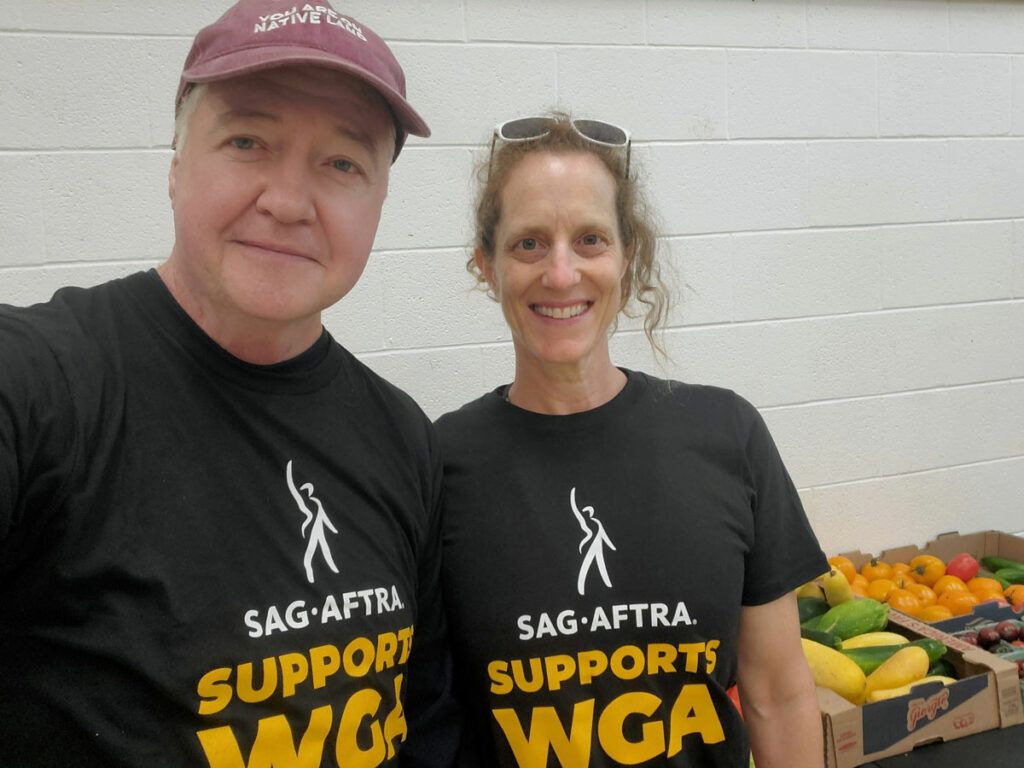 Turner: A bunch of us Vermont SAG-AFTRA members then met with the SAG-AFTRA organizer who had come up from Boston, Benjamin Shallop — he actually used to live up here in Vermont — along with other workers that evening at the Rutland Workers' Circle. Vermont AFL-CIO Executive Director Liz Medina was there. She has been a driving force in organizing the workers' circles across the state. We were able to generate support for our strike and offer support to workers in other industries who are trying to organize a union at their workplace.
You represent a lot of voice-over artists. How important is it to gain protection for these workers against AI doing voiceover automation instead? Why should people care about voice-over work, a profession that doesn't get much attention from the general public?
Turner: As a SAG-AFTRA member, one of my major areas of work has been voice-overs and off-screen narration, particularly descriptive narrative for visually-impaired audience members. I have over 25 years experience working on TV shows and feature films, including a number of popular children's programs. The fear of having my voice captured, processed, and reused for any type of project, without my consent, and without properly compensating me, is very real. Recently it was discovered that Stephen Fry, the British actor who narrates the English versions of a certain wizard book series, had his voice stolen and used by an AI system.
This feels like criminal activity. It takes work out of professional actors' hands, and allows companies to use our images, likenesses and voices literally forever, with no consent nor compensation. Without proper representation from our Union to negotiate for the fair use, and parameters of using our work, producers can exploit us into eternity, disregarding that the origin of this work is a living actor — a human being.
It is critical now to protect us, and all workers. Our voices have already been used, virtually always without informed consent or compensation, to train AI systems. It is only the collective power we have in our union that will allow us to put protections in place now.
What are the challenges — or perhaps just differences — in organizing performers and media workers so far from the major hubs of New York and Los Angeles?
Diamond: Because there isn't a lot of union production in Vermont, the members here don't necessarily know each other well, because we haven't worked together regularly, and there simply isn't a large membership in a concentrated area as there is in NY and LA. Also, the AMPTP producers who we are striking against are mainly based in NY and LA so we can picket their studio locations. There are no similar picketing locations to be had in VT. But the local staff has created an e-list of VT members, inviting all of us to meet up at the Rutland Workers' Circle last month, and we are looking forward to more collective action here.
You attended the Vermont AFL-CIO convention, which I believe was the first time SAG-AFTRA had a delegate. What did you take from that experience?
Turner: I was very honored to represent SAG-AFTRA for the first time at the convention. I was very impressed with the amount of support and goodwill other unions extended to us.
Diamond: It was truly an honor to be part of it. Everyone was incredibly welcoming. It was awesome to connect with workers from so many different sectors, all showing up from the understanding that our interests are best served when we stick together to protect our collective interests from the seemingly insatiable greed of wealthy corporate executives. Seeing all the new, young union members from Scoopers and Starbucks unions, among others, gives me hope that our cross-sector workers' movement will keep growing and getting stronger. And the clear commitment there to more deeply integrating workers rights with racial, gender and climate justice is so necessary and heartening.
It was also great to make connections with many of our entertainment industry union siblings like IATSE. And we got great advice from Senator Kesha Ram Hinsdale, among others, on strategies to help pass both a film tax incentive and the Vermont PRO Act. The Vermont PRO Act is hugely important to all workers here. The AFL-CIO, DSA, Migrant Justice and others helped get it through the state Senate last session, and we really need everyone's help to get it through the House this year, and ensure a veto-proof majority support. Folks can get more info from the AFL-CIO and if they are looking for support with their own workplace issues and organizing, the Workers' Circles they organize are a great place to build connections throughout the year, whether they are already union members or not.
How best can Vermonters support the SAG-AFTRA strike?
Diamond: First, get the facts and regularly updated ways to support us directly from SAG-AFTRA at https://www.sagaftrastrike.org. Don't believe, spread, or stand for the rumors that the AMPTP may be trying to spread. Help share our message on social media — there is a social media toolkit at the strike website. Show up for our rallies or picket lines when you can: you can find additional New England SAG-AFTRA local news and events at https://www.sagaftra.org/NE. Donate if you can to support our members who are struggling, and help spread the word about these resources: https://www.sagaftrastrike.org/strike-assistance-member-support.
And of course, please do not work on struck productions or cross picket lines. And encourage anyone you know who creates film, TV, audio productions to do so under union contracts, and to pay their workers/artists. There are so many ways to support each other; solidarity is a necessity, and brings out the best in our workplaces and communities.
Matt Moore is a writer from Vermont. He is on the editorial collective of The Rake Vermont.