Amid chants of "Milk with dignity!" roughly one hundred farmworkers and supporters assembled on Thursday for an informational picket and rally near the Hannaford supermarket on Shelburne Road in South Burlington.
Organized by Migrant Justice/Justicia Migrante, a grassroots organization of farmworkers in Vermont, the action, one of several weekly pickets this fall, was a continuation of a four-year campaign to pressure Hannaford to participate in the Milk with Dignity program. Joining Milk with Dignity would mean Hannaford would pay a small premium for its milk purchases, which would go to improving wages and working conditions on participating farms and provide independent third-party oversight.
For a state whose political and business classes often wrap themselves in a progressive pastoralism, the reality of Vermont's dairy industry bears closer resemblance to the Triangle Shirtwaist factory than the serene, rolling fields of our postcards.
Jesús, a dairy worker at the picket, shared with the assembled picketers his story of injury on his farm due to unsafe working conditions. An eight-year veteran of dairy farms in Vermont, Jesús could quickly tell that the machine he was working on one day was faulty. "That day, I reported that the machinery was malfunctioning three times to my supervisor," he said with an interpreter to the crowd. "The boss didn't care about me or the consequences, saying 'you can work with that, you can keep on going.'" The result of the faulty machinery was as predictable as it was gruesome: Jesús said he lost part of his right foot. He declined to mention the name of his employer for fear of the consequences: "I'm afraid of retaliation. I don't have any protection against retaliation, which is why many of our workers keep quiet."
To be a farmworker in rural Vermont is to often live a life of isolation, with sleeping quarters usually provided by the farm owner on premises. Migrant Justice has collected extensive survey data and harrowing testimonials from workers, including cramped and unsanitary housing, sub-minimum wage pay, little safety equipment, injury by animals and equipment, lack of clean running water, and seven-day work weeks.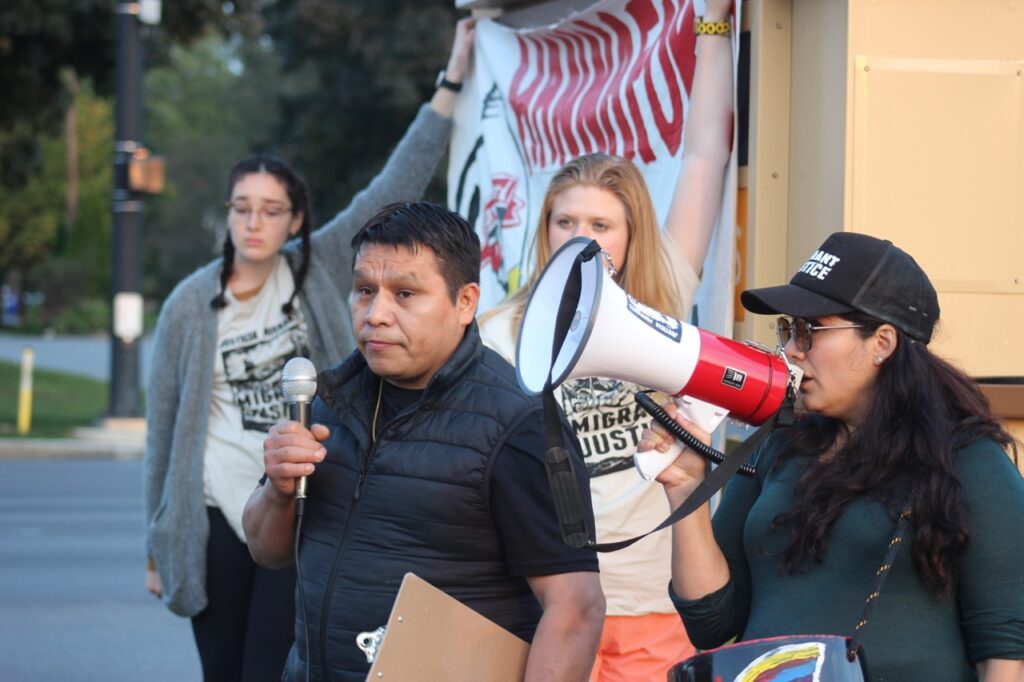 Because the largest resellers of dairy products — grocery stores — don't own the dairies, violations of worker rights further back in the supply chain are easily overlooked by corporations like Hannaford. The stiff competition and low margins in the dairy market also mean that if a few farms were to raise prices to pay higher wages, buyers would choose other farms: the same "race to the bottom" logic that plagues the garment industry.
Milk with Dignity is an attempt to treat this systemic problem systematically by forcing changes at the supply chain level involving both buyers and sellers simultaneously. Sometimes known as "worker-driven social responsibility," Migrant Justice is taking a page from their counterparts in the Coalition of Immokalee Workers and their successful Fair Food Program, which includes more than a dozen corporations that have signed on.
In 2017, Ben & Jerry's became Milk with Dignity's first signatory, agreeing to source the milk it uses in its ice cream through the program. In the years since, Migrant Justice has reported significant improvements in wages and working conditions at participating farms. Key to those improvements has been enforcement mechanisms for farm owners who don't meet the agreed standards, and an independent hotline that farmworkers can call to report problems and get help.
Hannaford has proven a tougher nut to crack. Not only does the New England grocery chain lack the social justice reputation of Ben & Jerry's, but by annual revenue it is roughly ten times larger. As a result, expanding cooperation and solidarity across other groups and causes has been key to Migrant Justice turning up the pressure.
Just earlier this month, the Pride Center of Vermont dropped Hannaford from a lead sponsor role in its September 18th Pride celebration after Hannaford refused to meet the Center's stipulation that the company meet with Migrant Justice leaders.
Migrant Justice's Abel Luna is confident that their campaign will succeed. He said that farmworkers have learned and grown over the past several years of organizing, and that the culture of fear and silence so common on dairy farms is starting to dissipate as workers build confidence. "At the beginning of the campaign, people were afraid of coming out and sharing what was happening in the farms, the conditions they were facing," Luna said. "As we continue to march, as we continue to take the streets, as we continue to sing and come together as a community, we're growing our power and people are not afraid anymore."
To conclude Thursday's event, participants marched to several Hannaford employees who were waiting at the edge of the parking lot and presented their demands. Jesús shared his story again, a Hannaford representative, showing him photos of the injury and making him promise to relay the story to CEO Michael Vail.
"It's been four years," Jesús said, interpreted by Luna, as he and other picketers relaxed on the grass with a meal after the event. "Our community knows this is what we need. If it takes four more years of campaigning and telling our story, that's what we'll do."
Patrick is a writer and organizer based in northern Vermont. He is on the editorial collective for The Rake Vermont.