The Winooski School District's almost-completed $62 million school expansion project has been in the news for being behind schedule and incurring rising costs. What is likely unknown to the city's residents and most Winooski school officials is the project's use of over $400,000 worth of incarcerated labor, worth millions in real labor costs; on average, incarcerated workers make less than $1 an hour.
Until recently, it appears that no Winooski School District officials knew about this subcontracting, as ReArch, the firm hired by the Winooski School District, refused to share that contract when asked by WSD officials.
Prison Labor Hidden from View
Until recently, WSD officials were unaware that incarcerated prisoners were working on the school expansion. A record request to both the city of Winooski and the Winooski School District turned up zero contracts with the Vermont Department of Corrections (DOC). This is because the contract was never signed with the municipality, but was rather a subcontract between the contractor and the DOC.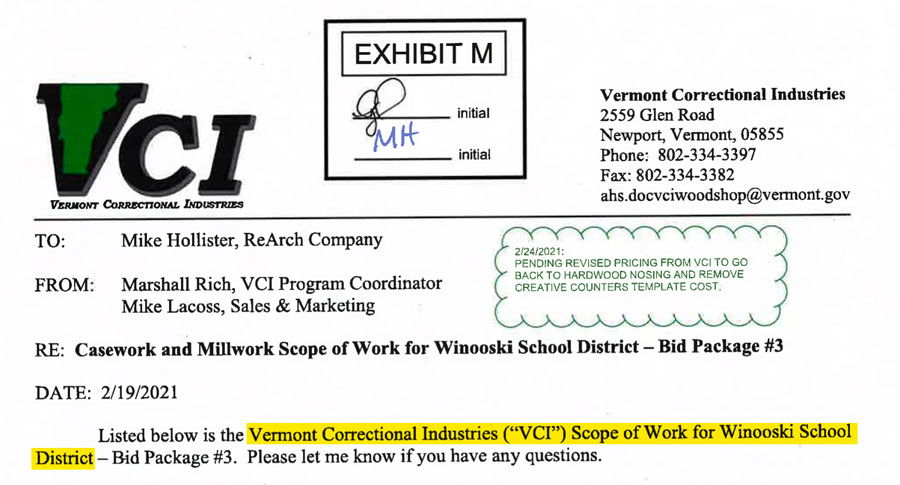 When Nicole Mace, Director of Finance and Operations for WSD, requested the contract from ReArch, the South Burlington construction company managing the $60 million project, Mace said that ReArch refused to share the contract.
Contract was obtained by a record request to the Vermont Department of Labor.
Part of the reason for this is that the Vermont Department of Corrections can approve prisoner leasing contracts with private, for-profit corporations. These incarcerated people are paid pennies an hour to build furniture and work in construction settings. Since these contracts and subcontracts are not shared with school and municipal officials, nor are they required by law to be shared with them, school officials were in the dark about this program.
Winooski's Superintendent Sean McMannon confirmed this for us by email, stating that WSD "did not know who ReArch would hire as subcontractors in connection with the work. Under our contract, ReArch has sole authority to select and hire subcontractors. As far as I know, the decisions made by ReArch have all been consistent with the contract and with the law."
McMannon went on further to state that, "WSD supports racial justice and equity. It condemns any behaviors that are racist, homophobic, or discriminate based on protected characteristics. We are proud of the work done at WSD to support antiracism, equity, and inclusion for our students, staff, and community."
McMannon did not address whether Winooski would change contract language in the future or if they would use ReArch for future projects, particularly since ReArch refused to share their DOC contract with the school district.
Prison Labor Conflicts with WSD's Values
Winooski School District's stated commitment to racial justice and equity appears to run counter to its actions and spending priorities.
The Winooski School District, the most diverse district in the state, with over 60% of students coming from a nonwhite background, started an anti-racism committee in 2020 after students brought a list of eight demands to school officials. This committee works, among many other goals, to acknowledge racial harm, restore, and seek healing. Yet the Winooski School Board has so far made little progress on these demands, in particular ignoring calls from students and community members to remove the school resource officer (SRO), an armed and sworn member of the Winooski Police Department.
Proponents of the SRO removal pointed to the school-to-prison pipeline in Vermont, which disproportionately sets up students of color to enter the prison system. This bears out in the recurring data that Black people in Vermont are far more likely to be jailed than white people.
More recently, an equity audit of both the city and district of Winooski found that "[a]uthorities disproportionately use disciplinary and law enforcement tools against BIPOC residents and students, including traffic stops and school disciplinary actions."
Beyond Winooski
A groundbreaking new report from June details how the labor of incarcerated workers in state and federal prisons generates billions for their captors, and Vermont is no exception. Captive Labor: Exploitation of Incarcerated Workers, released by the American Civil Liberties Union and University of Chicago Law School Global Human Rights Clinic, finds prison labor programs rife with intimidation, threats, safety concerns, and, of course, underpayment of workers so drastic as to be illegal in any other context.
When the report was released, ACLU researcher Jennifer Turner said, "Incarcerated workers are stripped of even the most minimal protections against labor exploitation and abuse. They are paid pennies for their work in often unsafe working conditions even as they produce billions of dollars for states and the federal government."
If prison labor is being used to build Winooski's new school without the knowledge or support of public officials or residents, it raises the question of how often this happens throughout Chittenden County and the rest of Vermont.
This question may remain unanswered, as a record request to inspect similar contracts over the last five years was rebuffed by the Vermont Department of Corrections, saying that contracts were scattered throughout the agency and that it would cost The Rake thousands of dollars in fees for them to be collected and digitized.
Emily is a writer and organizer on the editorial collective of The Rake Vermont.