Over 1,000 gathered and marched from Battery Park through downtown Burlington on Saturday afternoon to support human rights for Palestinians and oppose Israeli apartheid as the ongoing bombing, siege, and invasion of Gaza — and escalating violence against Palestinians in the West Bank — continues. The death toll in Gaza at press time stands at 9,200, including more than 3,600 children and 36 journalists.
The march was one of many nationwide that day, including what is thought to be the United States' largest march in history for the Palestinian cause, in Washington, DC. Here, speakers demanded Vermont's congressional delegation call for a ceasefire, end U.S. military support for Israel, and end the Israeli occupation. Speakers from local organizations including Vermonters for Justice in Palestine, UVM Students for Justice in Palestine, Jewish Voice for Peace of Vermont/New Hampshire, Migrant Justice, FreeHer Vermont, Champlain Valley DSA, Party for Socialism and Liberation, Education Justice Coalition, Rural Vermont, and Co-Operation Vermont were represented, as well as labor organizations including Ben & Jerry's Scoopers United and the Howard Center union, AFSCME Local 1674.
AFSCME's Amanda Calder urged workers to unite using collective action, citing protests in Oakland, Belgium, and Italy where activists, trade unionists and dock workers have refused to ship weapons headed to Israel. "We and other human services workers from around the world including, in Palestine and Israel stand in solidarity with the Palestinian people's in their fight for freedom and dignity and for their human rights to be respected," she said. "We mourn for all of the dead in this conflict, and as the saying goes, we must fight like hell for the living."
Causes and Effects of the Occupation Can Be Found in Vermont
Speakers connected the death and destruction abroad to what is happening in Vermont, including Vermonters' tax dollars going to military aid for Israel. Vermont Air National Guard F-35 fighter jets flew overhead during the latter stages of the rally, planes that have been used by the IDF.
"It is estimated that through our state's share of federal tax dollars alone, we pay almost $6 million to fund the Israeli military annually," said Jayna Ashaf of FreeHer Vermont.
None of Vermont's Congressional delegation, those with direct vote on military appropriations and foreign aid, were present at the rally. Vermont's sole member of the U.S. House, Representative Becca Balint, has not signed onto a ceasefire agreement among Democratic members of Congress. U.S. Senators Peter Welch and Bernie Sanders wrote to President Biden on November 1 suggesting Israel "consider" a "humanitarian pause" amid their "serious concerns," but declined to call for a ceasefire or suggest the flow of U.S. aid to Israel be lessened or have conditions attached.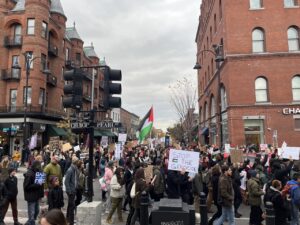 Along with tax dollars going toward military aid for Israel, Vermonters have to contend with it in the classroom.
Several members of the Education Justice Coalition of Vermont spoke, and mentioned that the Anti-Defamation League (ADL) will be presenting at the upcoming Vermont Alliance for the Social Studies conference for social studies teachers across the state. The ADL uses the IHRA working definition of antisemitism, a controversial definition that can include criticisms of Israel.
Earlier this year, Human Rights Watch and more than sixty human rights organizations urged the United Nations not to adopt the IHRA's definition. They cited the fact that individuals and human rights groups "who either document or criticize Israeli policies and who speak in favor of Palestinian human rights" have been criticized, lost their jobs, and been prosecuted due to running afoul of the IHRA definition. (This is not the first time the IHRA definition has caused controversy in Vermont.)
An EJC member said, "this definition of antisemitism has been used to silence critics of Israel, and court cases have been brought and won in its name. We're putting a call out to everyone to organize in their local community to ensure teachers are not silenced, and that the truth about the Nakba, the occupation, this apartheid, and the full history be taught in our schools."
With larger turnout at events locally and nationwide, those gathered were urged to continue their solidarity, and to continue to show up to actions statewide, of which there have been a dozen vigils, rallies, lectures, and organizing actions have taken place in the Burlington area since October 14th, and will continue to take place in the coming weeks. For Wafic Faour of Vermonters for Justice in Palestine, he's thankful for the love and solidarity on display, but doesn't want it to wane, concluding the rally by saying, "it's very hard to ask…I want to humble myself and ask each one of you: don't leave us alone."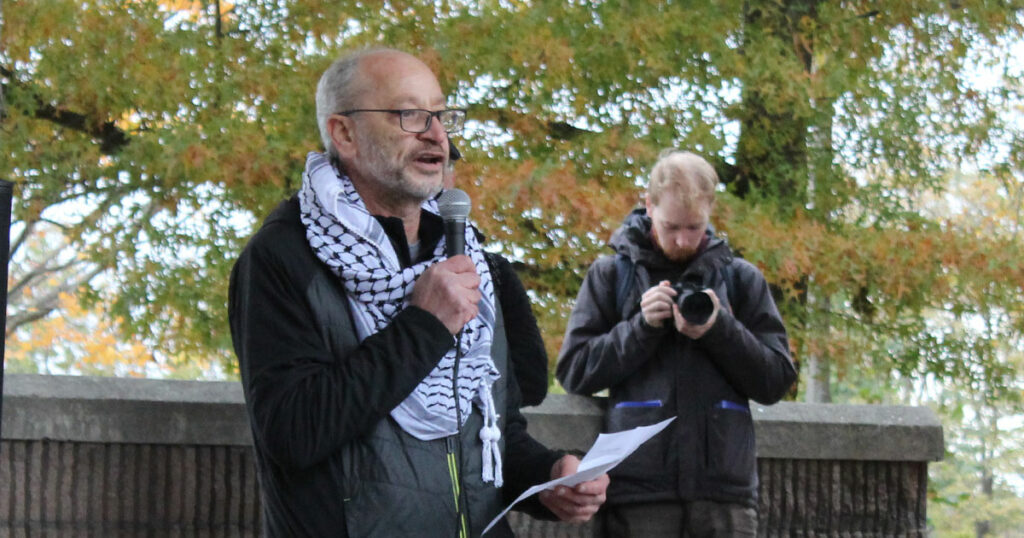 Matt Moore is a writer from Vermont. He is on the editorial collective of The Rake Vermont.